How effective online CPR courses are? It's a question asked by many people, particularly now that online education is turning out to be more widespread with modern technology and internet being accessible so effortlessly anywhere you want. Today, several colleges & universities have millions of students registered in degree courses that they can accomplish right from the comfort of their living room, and a large proportion of learners in higher education are presently associated with classes that are 100 percent online. Several other training associations are following the track as well by providing an extensive range of courses online, varying anywhere from foreign language courses to driving courses or even safety courses like, online CPR training and certification. Online learning is turning out to be a fad that offers no signs of slowing down in the near future.
With this in mind, it's simple to notice how online safety programs, like online CPR certification or first-aid certification are turning out to be so admired. Not just they permit more and more individuals to become CPR certified due to their convenience, but they're also more economical for the most individuals. Taking into account all this, though, many still inquire: "how productive can online CPR certification program truly be?" This is a genuine question with a comparatively straightforward answer. Studies have revealed that common, online educational courses are actually verified to be more productive for learning & preservation than typical classroom courses. This is because of several diverse aspects like, individual learning speed, stress-free atmosphere, customized concentration times, learning method, and so on. The fact is, as uncomplicated text-based education is already more productive in comparison to a typical classroom environment, dynamic and intelligent online learning programs have been appeared to considerably boost learning efficiency over stationary classroom education.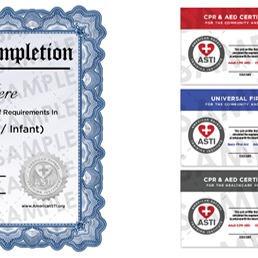 So how does this have an effect on CPR & first-aid training? Online first-aid and CPR certification programs that are dynamic, can be followed at any speed, and are the most affordable and can be revised at any given time makes studying CPR online the best learning atmosphere.

Here at American Safety Training Institute we've taken each aspect of this information into account; the majority of the course supplies on our site hold all of the above-mentioned elements, making them very productive programs for those who want to become CPR certified or to complete a renewal course. Our CPR and first-aid courses are ECC and OSHA-compliant and fulfill the International Guidelines for Cardiopulmonary Resuscitation standards.
For more updates and notification, stay social with us on: Facebook, Twitter.
Save