AED or Automated external defibrillator is a portable device that is used to check the heart rhythm and restore a normal rhythm. Most probably AEDs are used to treat sudden cardiac arrest (SCA) condition, in which heart suddenly or unexpectedly stops breathing.
It is found that there are some concerns and uncertainties regarding AED usage. This inspired us to discuss some important and useful facts about AED that will offer a clear idea. Please read on!
#Fact 1- AED is Effective
Concern: Using AED could unintentionally shock a victim
Answer:
Using anything that involves sending electrical current through the body can naturally leave people worried or concerned. However, the fact is that using AED is safe and effective way to handle a sudden cardiac arrest. Generally an AED analyzes the victim's heart to determine if a shock is necessary to restart the heart or not. Using AED or restart the heart is essential for survival in case of a sudden cardiac arrest.

#Fact 2- Trained Persons can use an AED
Concern: AED can only be used by Trained Medical Professional
Answer:
Individuals (whether medical professional or common people) who have received a formal training are right persons for using AED. Life saving programs such as AED and CPR training programs (Cardiopulmonary resuscitation) that are certified will prove effective to conveniently use the AED at the time of need and make a difference.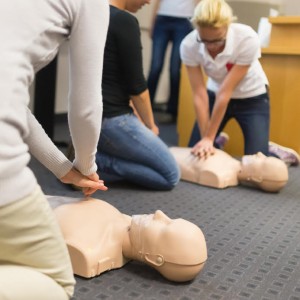 #Fact 3- AEDs can be used in case of Children
Concern: It can be Harmful to use AED on Children
Answer:
AEDs can be modified, which will make it safe for use on small children, such as for children under the age of 8 or less then 55lbs, it is recommended to use specialized pads that will lower the amount of charge released by the AED. Whether you are attending an adult or child, having a proper formal training will enhance the survival prospects with right kind of first aid.
#Fact 4- AED is automated not Automatic
Concern: What is the Difference between Automatic and Automated?
Answer:
You will find there is a small difference of principle between automatic and automated operation. AEDs can be operated by trained individuals to deliver a quick and effective first aid in case of sudden cardiac arrest or medical emergency.

Using an AED at first may seem to be complicated, which can be prevented by getting a formal AED training from American Safety Training Institute. We excel in providing nationally accepted certification courses in CPR, AED techniques, first aid and BLS (Basic Life Support) programs. Our main objective to implement CPR and AED courses is to enable every individual to be formally trained to make the difference at the time of need and make a difference by saving a valuable life.
For more updates and notification, stay social with us on: Facebook, Twitter.
Save