You must agree that illness, accidents, and medical emergencies occur all of a sudden. It is highly recommended that you should keep ready to manage such things around. It is wise and inevitable to intervene in such situations with the right measures otherwise it may lead to a tragic disaster. The life of your family members, neighbors, coworkers or even passersby can be in danger at times and you can be a savior for them with an enrollment in the CPR certification course.
Many of you might already be thinking to get into action on time by getting CPR certified and know basic things to help the victims (adults, infants or children) recover from such medical emergencies. Some of you may be assuming that learning life-saving skills like CPR is the duty of medical professionals only or it is too difficult or wastage of time to get CPR certification. Unfortunately, medical emergencies such as cardiac arrest mostly happen away from the locations where the trained professionals are present, which is why joining a CPR certification course is essential for you. It is a life safety skill you will feel lucky to have. But you should not consider it without going through the solid facts given below.
Incidents & Occasion of Cardiac Arrest
• As per the American Heart Association, around 383,000 cardiac arrests occur suddenly out of a hospital every year.
• 3 / 4th of these cardiac arrest victims were found to be facing the emergency in their own home.
• And 4 out of 5 victims are first timers, and they don't have any earlier record of heart disease or risky beating pattern. They seem healthy and don't show any panicky symptoms for family members.
• It means that should they face a cardiac arrest suddenly, almost certainly the person to provide life-saving CPR (cardiopulmonary resuscitation) would be a family member like a spouse, or child / parent, or a relative or a neighbor with frequent visits to the home.
• If you belong to the African-American community, these cases are even higher in number, as African-Americans experience this disease at double the rate.
• The most disgusting thing is that in spite of the high number of cardiac arrest in the home, less than 8% of out of home cardiac victims are able to survive.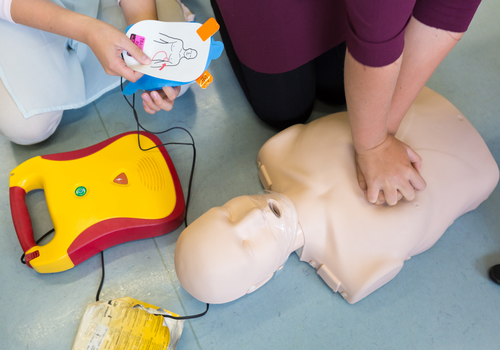 Merits of CPR Certification Online / On-site
• During an emergency involving cardiac failure, early administration of CPR can practically double or triple the patient's survival rate.
• Brain starts to go dead due to lack of oxygen supply within 4-6 minutes of cardiac arrest. If no one is there to perform CPR or defibrillate with an AED tool, it might cause the death of the patient. With CPR skill, you can restore blood flow to the heart as well as the brain, extending the time span when an electrical shock given through a defibrillator will be helpful.
• The cardiac arrest will never be life-threatening if a number of bystanders are able to administer CPR on time. It will save more lives, but nearly around 33% of bystanders really take up a CPR certification course in order to be able to ensure CPR to a victim in cardiac emergencies.
Pretty appealing, are not they? You may be convinced that joining a CPR certification course and keeping your certificate is renewed is as necessary as other life safety skills that may work in daily life. It is a basic skill which is not just meant for emergency professionals or medical practitioners rather for every ordinary individual. The number of lives that would be saved with the CPR certification course is the reason for motivation to join one soon. What may add to your desire to get CPR-certified is the awareness that it might save someone's life during a cardiac emergency. Keep yourself emergency-ready with a CPR certification course of American Safety Training Institute. It will not just give you the knowledge and confidence to react to a life-threatening situation with efficiency and promptness,
At American Safety Training Institute, all our courses are ECC and OSHA compliant and designed to the top standards in non-medical emergency and safety training. We offer smoothly navigated and perfectly educative CPR certification online following the latest guidelines and methods. To carry on CPR certification online at your own pace, consider contacting us at (800)225-1893 or browse our website online!